Ty and Lynn's Kenwood Pied A Terre
Name: Lynne and Ty McDaniel
Location: North Kenwood — Chicago, Illinois
Size: 1000 square feet
Years lived in: 3 years, owned
Ty and Lynne don't just surround themselves with beautiful and stylish vintage furnishings in their home…they share their eye for style through the nine-year-old, award-winning, local furniture store An Orange Moon, located in the West of Western district of Chicago. We actually featured the creative couple a few years ago in a popular tour of their shop's studio apartment. Today, see the stunning interiors of a North Kenwood pied-à-terre they've been "cocooning" in for three years now.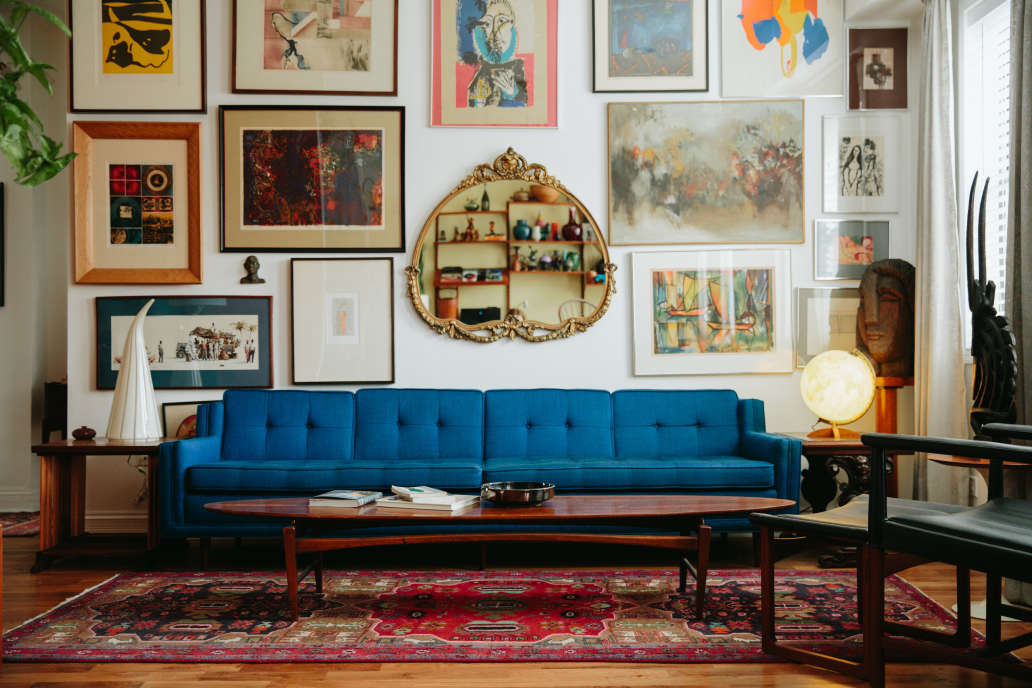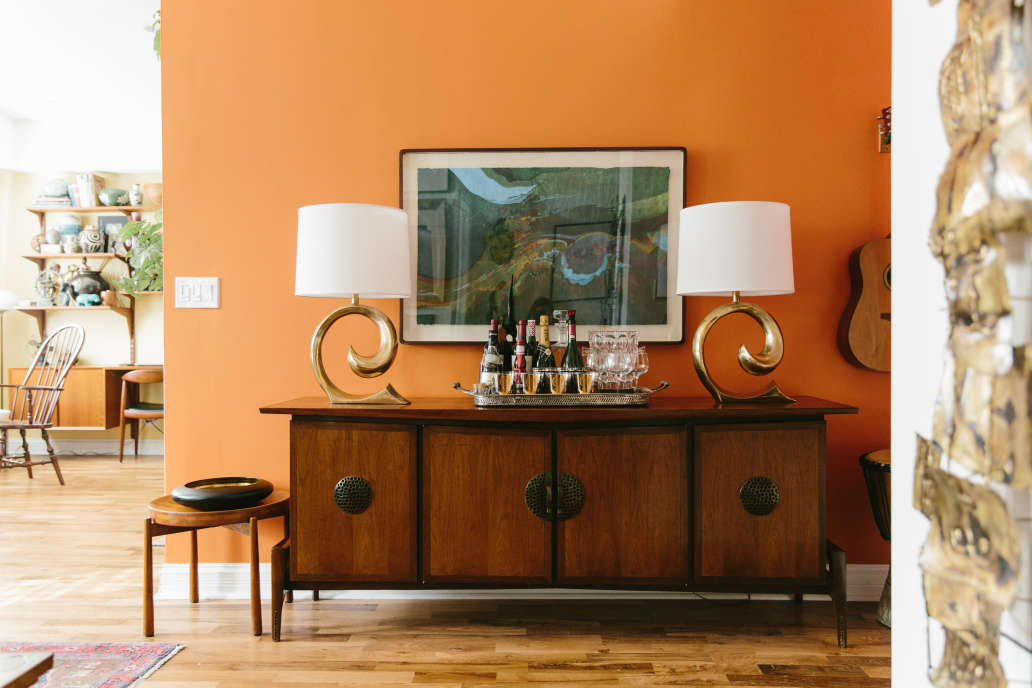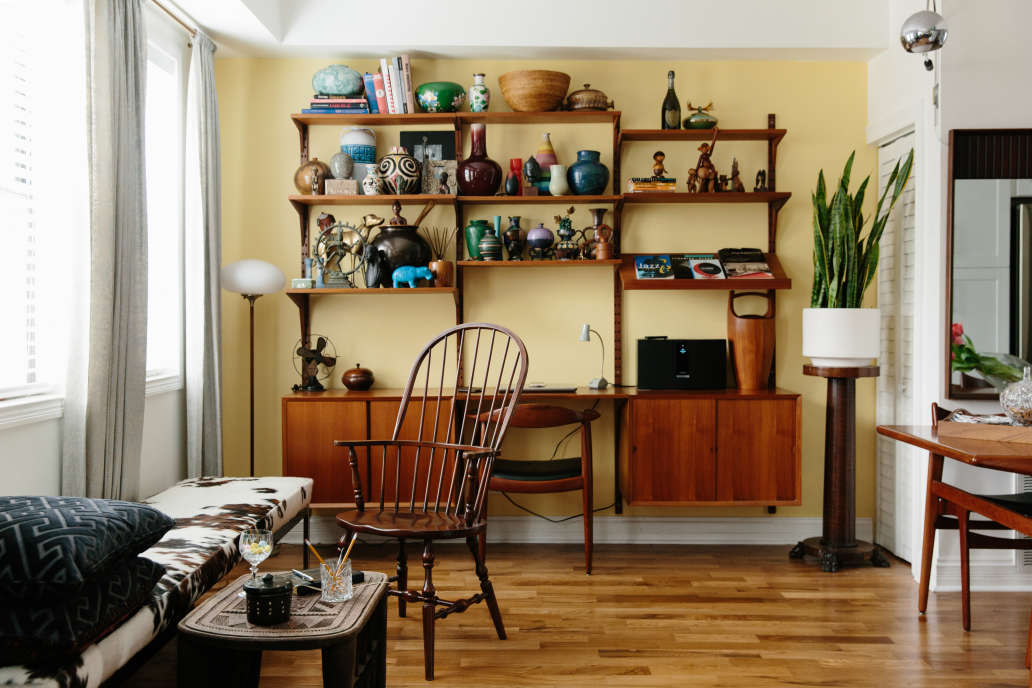 "It's our getaway," writes Lynne. "When we want to replenish our souls from the hustle of the city, North Kenwood offers rows and rows of jaw-dropping, turn-of-the-century architecture (graystones and rowhouses), grassy boulevards, historic fountains, the smell of Lake Michigan, but mostly—peace and quiet."
Finding a home on an architecturally lush historic boulevard, in an established neighborhood, at a truly affordable price was a challenge. But once that task was completed, the fun challenge of space planning, mixing interior design styles, and sourcing affordable finishes began.
Located around the corner from President Obama's old Chicago home, the vintage power couple sourced this pied-à-terre on their own. Lynne was hellbent on finding a space that doubled as both a "love nest" and a space to entertain clients. Ty was simply seeking a space where he could put his architectural and interior design skills to work. Together, they created a colorful, art-filled, mid-century modern dream house!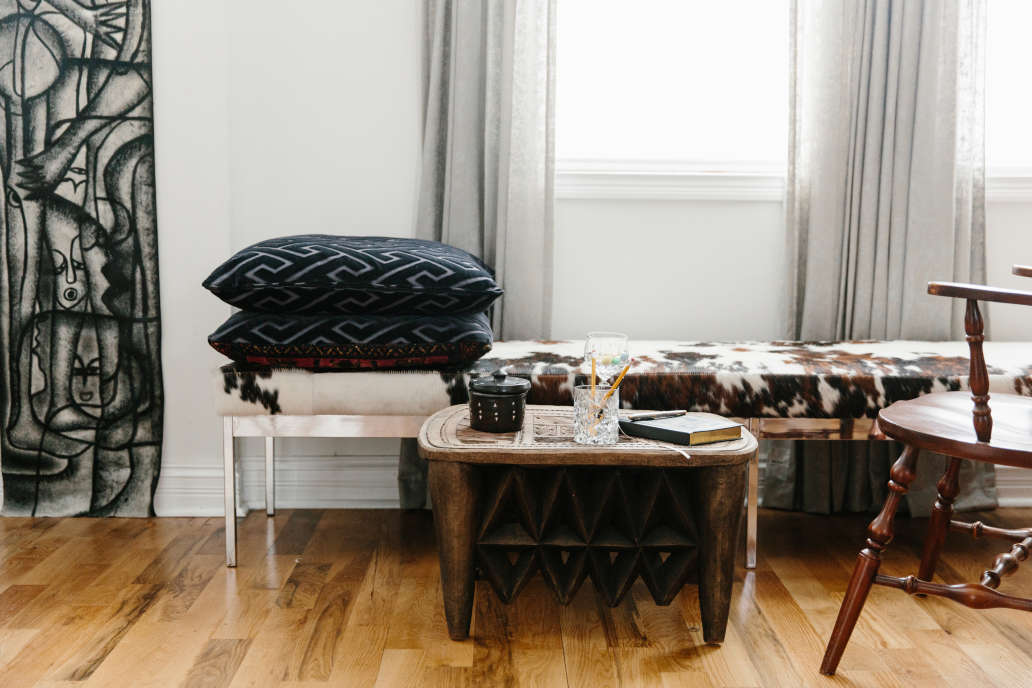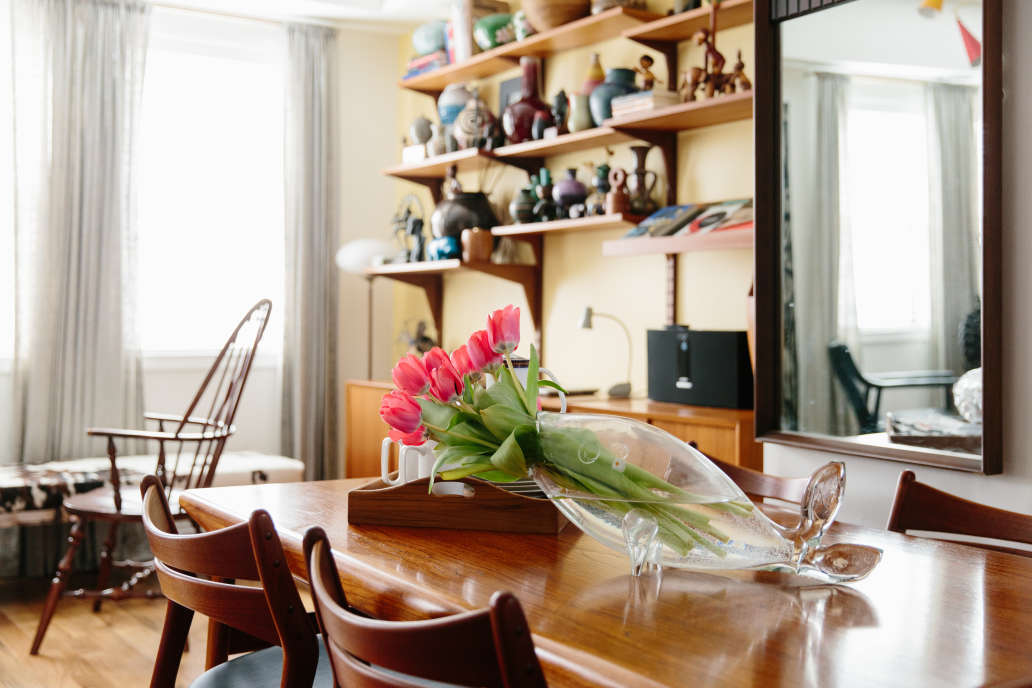 Apartment Therapy Survey:
Our Style: Anything we feel is beautiful, be it a great patina or wonderful lines. We don't pigeonhole ourselves into a particular period or style. Don't do that to yourselves. And stop being so afraid of color! Live a little. There are no hard and fast rules. And lastly, in the words of Heidi Klum, "No more matchy, matchy."
Inspiration: Whatever gets our blood pumping. We are inspired by the greats: T.H. Robbsjohn-Gibbings, Probber, McCobb, Hans Wegner, Edward Wormley, Poul Cadovius, Finn Juhl, Milo Baughman.
Pssst, wanna know a secret? We love all periods. Me? I am gaga over French furniture with all its twists and turns, bronze ormolu, feather down seat cushions, and totally seek out Stickley, Country (YUPPERS), English, Italian… The secret to good design is to be fearless. Go ahead, mix it up. No judgment here!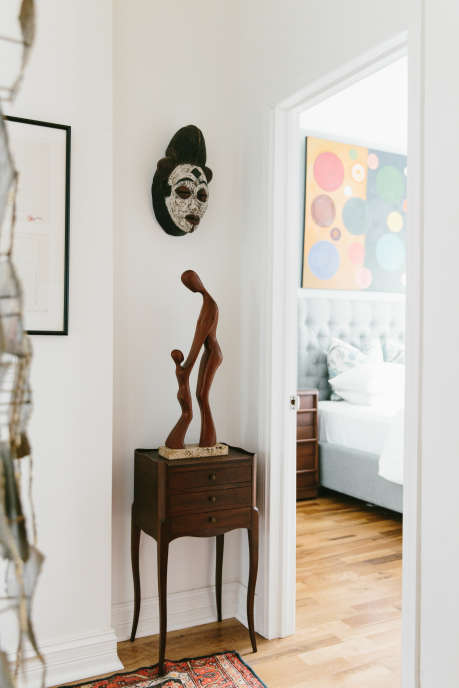 Favorite Element: Ty's favorite piece? Finn Juhl anything. But that sexy black leather lounge chair by Ejner Larsen and A. Bender Madsen in the living room is def his chair.
Lynne's favorite piece? I thought everybody knew? When I die I've requested Ty to make sure I'm buried in my Arne Jacobsen Egg chair. Morbid? Not really. Gone are the days of old fashioned funerals. (Not shown. In queue at the upholsterer. If you have a moment, visit our website. I will post a photo on the blog as soon as it's done.) And the question then will be, where will it fit?
Biggest Challenge: Space planning. Fitting some of your favorite pieces and artwork into a small space can be quite the challenge.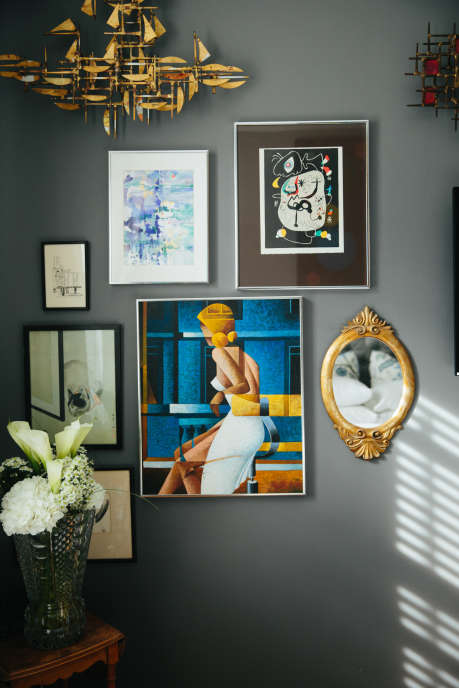 What Friends Say: They live in a "grown-up" house.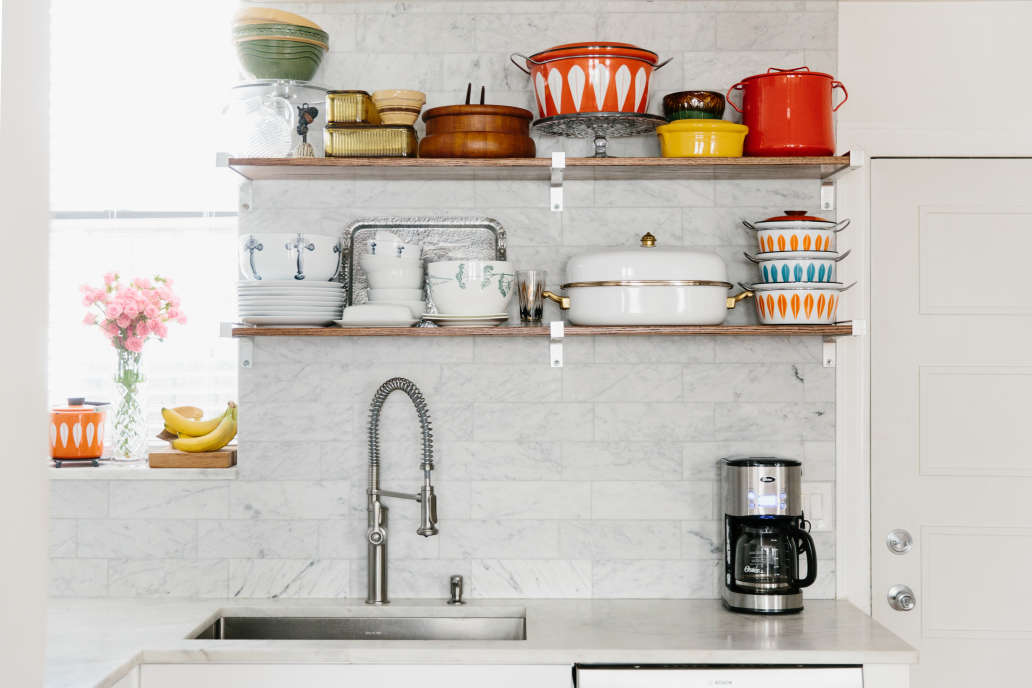 Biggest Embarrassment: That silly bed. While super comfortable, well made, and we use it likes it's our own little city, it simply does not offer any "joosh." I am searching for an exquisite, strong, Italian brass, vintage queen. I can't wait to sell this one.
Proudest DIY: Nope. While I am not a DIYer, Ty has the gift of furniture design, maker, creator, damn near a "wood whisperer." He is the finisher. On every property, I depend on Ty to complete that last 10 percent that the contractors never seem to complete. Goodbye Contractors—HELLO HOME!
Biggest Indulgence: House-wise, during the rehab, we had the best insulation installed throughout. That's not exciting I know, but when it comes to living in a condo, noise-wise, it helps so very much. Remember, everybody has to live together, and your neighbors will love you for it!
Best Advice: In life and design, "Always trust the process."
Dream Sources: C'mon. An Orange Moon.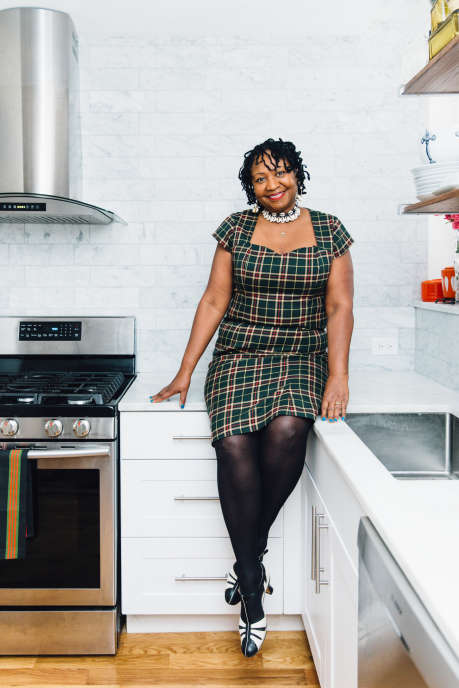 Resources:
"In the world of antiques, revealing sources is forbidden." ~Geoffrey Rush, from the film, "The Best Offer"–but I'll share what I can.
PAINT & COLORS
The "50 Shades of Grey" we used in our pied-à-terre are on our blog.
ENTRY
Sideboard is a Helen Hobey for Baker American walnut credenza — An Orange Moon
Pair of Pierre Cardin "logo" brass lamps — An Orange Moon
Black shades — A Lamps in Chicago. We source all our shades here. Also, re/wiring services.
Painting (watercolor); '60s mid-century modern period— An Orange Moon.
LIVING ROOM
Vintage "Cobalt Blue" Lawrence Peabody for Richardson Nemscoff sofa — An Orange Moon
Mission-style side table, designed and hand crafted by Ty McDaniel — An Orange Moon
Vintage walnut "Surf Board" coffee table by Lane— An Orange Moon
Vintage Saarinen walnut top side table — An Orange Moon
Baseboards by Ty McDaniel (throughout home, cut, painted, installed) — Home Depot
Art on gallery wall, all Chicago sourced — Ty McDaniel install.
Replogle Library glass illuminated globe — An Orange Moon
Carved English side table with black marbled inset — An Orange Moon
Chi Wara Headdress–An Orange Moon
Lighting — 1950s made-in-Sweden chandelier; Installed by Ty McDaniel
Vintage rugs–An Orange Moon
DINING ROOM
Dining table — Niels Otto Moller for J.L. Moller teak dining table with extension leaves, 1960s
Dining chairs — By Eric Buck. Fully reupholstered in black Spinneybeck leather
Cado system — Ty McDaniel installation; Sourced by An Orange Moon.
Desk chair — Hans Wegner
Bose radio — Abt Electronics
Oak pedestal — Sourced by An Orange Moon
Vintage flower pot — By Gainey
Florence Knoll cowhide covered bench
Drapes — HomeGoods
African table
Hambersham Sack-Back Windsor chair
Star Rite Fitzgerald vintage fan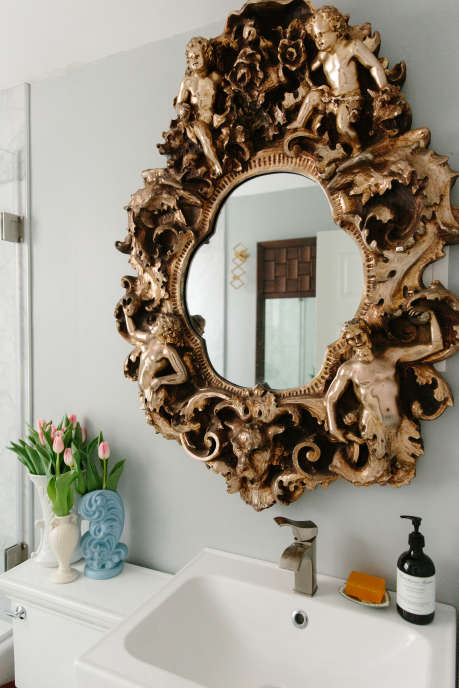 KITCHEN
Cabinets — Home Depot
Handles — Home Depot
Washer & Dryer; Bosch — Abt Electronics
Dishwasher; Bosch — Abt Electronics
Stove; Samsumg — Abt Electronics
Refrigerator; Samsung— Abt Electronics
White Carrera marble counter top — Stone City
White Carrera marble window sill — Stone City
Shelving installation by Ty McDaniel
Oak slab — Owl Lumber
Steel shelving brackets install by Ty McDaniel
All trims, cuts, door handles, locks, screens, paint, hardware and installs throughout home — Ty McDaniel
Catherine Holm cookware — Sourced by An Orange Moon
Crockware bowls — Sourced by An Orange Moon
BEDROOM
Drapes — HomeGoods
Drapery hardware — Bed Bath & Beyond
Nightstands — T.H. Robbsjohn-Gibbings for Widdicomb
Glass tops on bedroom chests; Hermes blue lamps; English side table; artwork; nail art — Sourced by An Orange Moon
Painting over the bed — "At Most Spheres," by Ty McDaniel; 2009
BATHROOM
Gilded mirror — Finesse Originals
Carrera marble baseboards — Tile Outlet on Fullerton in Chicago
Sink — IKEA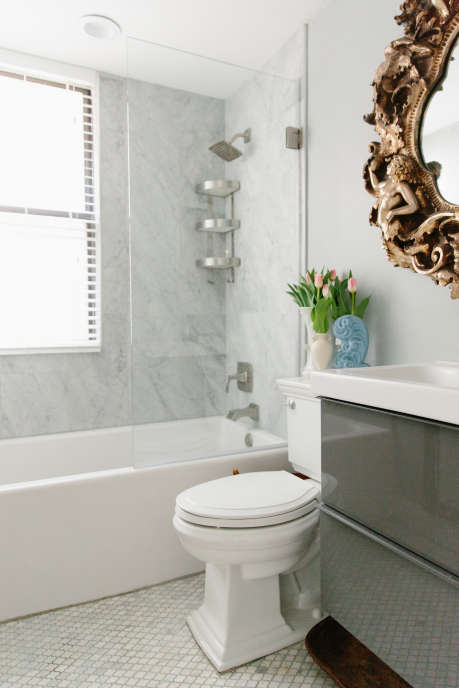 Faucets — Home Depot
Marble tile — Tile Outlet on Fullerton in Chicago
Marble wall tile — Tile Outlet on Fullerton in Chicago
                                           Thanks, Ty and Lynne!